Holiday Gifts
Quick Shopping Guide
Shop our popular Holiday gift guide and
order today for delivery by Christmas!
The perfect way to say thank you to offices
you partner with through the year.
Our Governors Packs offer a prestigious assortment of nuts,
chocolate covered favorites, and our Mayor's pack offers a dried fruit assortment in a round gift basket.
Any of our three natural willow gift baskets wrapped with a holiday red bow offer
chocolate covered favorites along with an assortment of dried fruit and nuts.
These are great options to give to individuals
you work with and appreciate.
When you need a great variety for a larger group nothing is better than our
assortments sure to delight everyone in the house.
Our three pack offers a variety of chocolate coated and
naturals in basket arrangements.
These are perfect to sit out on a table for family and friends.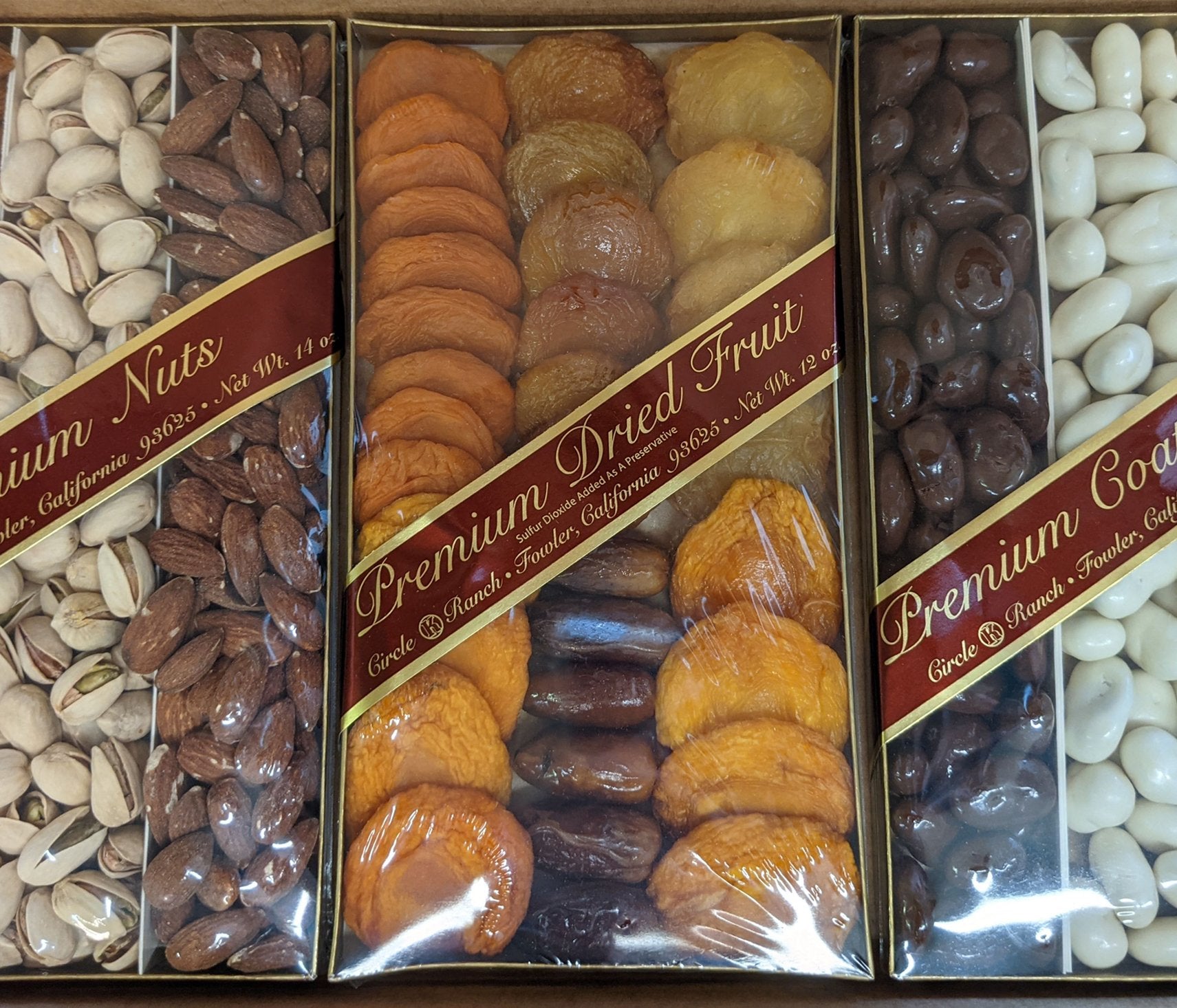 Variety packs are a flavorful gift item offering a
sampling of dried fruits, coated favorites, and naturals.
The Candy & Nut 3 Pack is great for anyone who loves
a little chocolate with their raisins and almonds.
The pistachios add a classic favorite to the mix!
We have it lucky here in the Central Valley with close access to the world's best
fruits and nuts locally grown. Send some of this California goodness cross country.
Try our California Tray or the Western Rattan
for a real taste of pure California goodness.
Holiday parties are a perfect time to spread cheer and healthy choices.
Bring a variety of our fruits and nuts to your next party for
healthy treat options everyone will appreciate.
Our Mayor's pack offers the largest combination of
dried fruits including apricots, pears, peaches and more.

The Circle K ranch nut tray gives an offering of almonds, pecans,
cashews, and pistachios packaged in a beautiful holiday bow.

If you're wanting to bring a perfect healthy combination try
our fruit and nut gold trays. A flavorful sampling of
California grown pure natural goodness.

Check Out These Great Add-Ons
Powered by AZEXO Shopify page builder